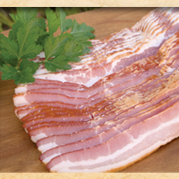 Tecker Pork
Contact: Jon Tecker
Address: 32418 Old 34 Parks, NE, 69041
Email Address: getpork@teckerpork.com
Phone: 308-423-2995
About Us
Tecker Pork offers free-range hogs — humanely raised without stress, hormones, and stimulants...the way it should be.

Enjoy Red Wattle pork full of old-fashioned flavor. The meat is marbled, dark textured, and succulent. The Red Wattle pig is a Heritage breed listed on the American Livestock Breeds Conservancy as critically endangered. We are dedicated to preserving this breed by increasing the demand for Red Wattle pork.

Learn more about the Red Wattle breed.

Tecker Pork was founded by Paige Tecker as her FFA Supervised Agricultural Experience project (SAE). While working on an SAE project students learn to apply the concepts and principles taught in their agriculture classes to real-world problems and scenarios. By choosing the Entrepreneurship route Paige has been able to research, plan and operate her own business. Selecting a product to fill an existing market of people wanting to buy humanely raised meat, free of hormones, she was also able to select an endangered Heritage breed. By choosing the Red Wattle breed she can not only supply customers with old-fashioned flavorful pork but can help to increase the number of Red Wattles available for breeding.

With assistance from her brother Sye, Paige has been able to set up computer programs to track her hog production and rate of gain statistics as well as to manage a database of customers. She is learning to use multiple marketing tools from online marketing to flyers and word-of-mouth. Another goal of her business is to be able to process some of her hogs at a facility where they can be USDA inspected. This would allow the sale of individual meat cuts locally as well as through a coop that markets to a larger targeted area.
Practices
No antibiotics, no growth hormones, dirt-raised, heritage breed